---
Eldest-Děj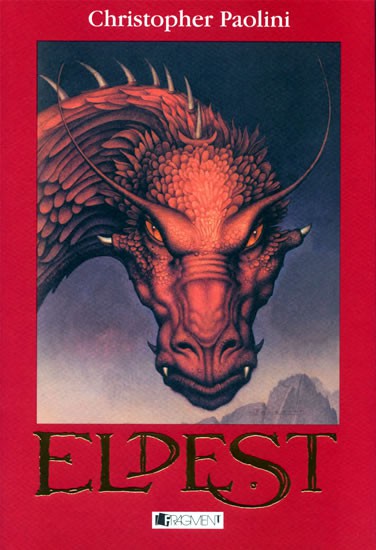 Děj Eldesta

Eldest začíná tři dny potom, co Eragon zabil Durzu. Vardenové se zotavují z bitvy o Farthen Dûr a Ažihad, Murtagh a Dvojčata pronásledují urgaly, kteří po bitvě unikli do tunelů pod Farthen Dûrem. Když je nenadále přepadne skupina urgalů, Ažihad je zabit a Murtagh s Dvojčaty během potyčky zmizí. Vardenská Rada starších jmenuje Nasuadu nástupkyní svého otce a vůdkyní Vardenů a Eragon přísahá, že jí bude oddaně sloužit.

Eragon a Safira se rozhodnou, že musejí odjet do Ellesméry, aby začali svůj výcvik u Zdravého mrzáka. Než vyrazí, král trpaslíků Hrothgar Eragonovi nabídne, že ho přijme do svého klanu Dûrgrimst Ingeitum, a Eragon souhlasí, čímž získává stejná práva, jako mají všichni trpaslíci, a oprávnění účastnit se shromáždění trpaslíků.

Eragona a Safiru na jejich cestě do země elfů doprovází Arya a Orik, Hrothgarův chráněnec. Cestou zastavují v trpasličím městě Tarnag. Někteří trpaslíci jsou přátelští, ale Eragon zjistí, že zejména jeden klan tu jeho a Safiru vůbec nevidí rád – Az Sweldn rak Anhûin. Tento klan nenávidí Jezdce a draky, protože Křivopřísežníci jej téměř vyvraždily.Skupina nakonec přijíždí do elfského lesa Du Weldenwarden. V Ellesméře Eragon se Safirou poznají královnu Islanzadí, která, jak oba zjistí, je Aryinou matkou. Také se setkají se Zdravým mrzákem, starým elfem Oromisem, který je rovněž Jezdec. Oromis a jeho drak Glaedr posledních sto let tají svou existenci před Galbatorixem a hledají způsob, jak krále svrhnout. Oromis i Glaedr jsou postiženi důsledky starých ran, které jim brání v boji – Glaedr přišel o nohu a Oromis, kterého zajali a zlomili Křivopřísežníci, nemá dost energie na provádění náročnějších kouzel a přepadají ho vyčerpávající záchvaty.Eragon a Safira začnou svůj výcvik, jak společně, tak i oba samostatně. Eragon se naučí mnoho nového z dějin ras v Alagaësii, boje s mečem a starověkého jazyka, který používají všichni kouzelníci. Během studia starověkého jazyka si uvědomí, že udělal strašnou chybu, když se Safirou žehnali sirotkovi ve Farthen Dûru: chtěl říct "Nechť jsi chráněna před neštěstím", ale ve skutečnosti řekl "Nechť jsi ochranou před neštěstím". Tak uvalil na dítě kletbu nutící je chránit ostatní před jakoukoli bolestí a neštěstím.

Safira ve výuce s Glaedrem dělá rychlé pokroky, ale jizva, kterou Eragon nese jako následek souboje s Durzou, zpomaluje jeho výcvik. Nejenže ho zranění na zádech zohyzdilo, ale nečekaně jej ochromuje bolestivými záchvaty. Neví, jak se bude moci rozvíjet jako kouzelník a bojovník, pokud křeče nepřestanou.

Eragon si začíná uvědomovat, že se zamiloval do Aryi. Vyzná se jí ze svých citů, ale ona ho odmítne a brzy odjede zpátky k Vardenům.

Pak se koná elfská slavnost Agaetí Blödhren známá také jako Oslava Pokrevní přísahy, během níž Eragon projde kouzelnou proměnou: změní se v něco mezi člověkem a elfem – není tak docela ani jedním, ani druhým. Zahojí se mu jizva na zádech a získá stejné nadlidské síly, jaké mají elfové. Pozmění se i jeho rysy, takže vypadá trochu jako elf.

Tou dobou Eragon zjistí, že Vardeny čeká bitva s Královstvím a že jeho i Safiru nesmírně potřebují. Zatímco byl pryč, Nasuada přesunula Vardeny z Farthen Dûru do Surdy, země na jih od Království, která stále zůstává nezávislá na Galbatorixovi.

Eragon se Safirou a Orikem opustí Ellesméru potom, co slíbí Oromisovi a Glaedrovi, že se vrátí, jakmile to bude možné, aby dokončili svůj výcvik. Mezitím svá vlastní dobrodružství prožívá i Eragonův bratranec Roran. Galbatorix poslal do Carvahallu ra'zaky a legii vojáků, aby Rorana zajali a použili ho proti Eragonovi. Roranovi se podaří utéct do nedalekých hor. S ostatními vesničany se pokusí vyhnat vojáky, během boje však mnoho vesničanů zemře. Když vesnický řezník Sloun, který nenávidí Rorana a brání jeho zasnoubení se svou dcerou Katrinou, zradí Rorana ra'zakům, ďábelské hmyzí nestvůry Rorana najdou a zaútočí na něj uprostřed noci v jeho ložnici. Roran se ubrání, ale ra'zakové zajmou Katrinu.Roran přesvědčí obyvatele Carvahallu, aby opustili vesnici a odešli hledat útočiště u Vardenů v Surdě. Vyrazí tedy na západ k pobřeží s nadějí, že odtud budou moci doplout do Surdy. Roran se projeví jako rozený vůdce a provede je bezpečně přes Dračí hory na pobřeží. V přístavním městě Teirmu potkají Jeoda, který Roranovi řekne, že Eragon je Jezdec, a vysvětlí mu, co ra'zakové ve vesnici hledali – Safiru. Jeod Roranovi a vesničanům nabídne, že jim pomůže dostat se do Surdy, a naznačí mu, že jakmile budou bezpečně u Vardenů, může mu Eragon pomoci při záchraně Katriny. Jeod s vesničany unesou loď a plaví se do Surdy.Eragon a Safira dorazí k Vardenům, kteří se připravují na bitvu. Eragon zjistí, co se stalo z dítěte, kterému dal své špatně formulované požehnání: jmenuje se Elva, a ačkoli je to ještě nemluvně, vypadá jako čtyřleté dítě s hlasem a chováním cynického dospělého. Eragonovo kouzlo ji nutí cítit bolest všech lidí v jejím okolí a nutí ji je chránit; pokud se tomuto nutkání brání, trpí ona sama.

Eragon, Safira a Vardenové vyrážejí vstříc oddílům Království na Hořící pláně, rozlehlý pás země, na kterém kouří a doutnají podzemní rašelinové ohně. Užasnou, když se na zádech rudého draka objeví další Jezdec. Nový Jezdec zabije krále trpaslíků Hrothgara a pak začne bojovat s Eragonem a Safirou. Když se Eragonovi podaří strhnout Jezdci helmu, spatří Murtagha.

Murtagh během urgalského přepadení pod Farthen Dûrem nezemřel. Celé to připravila Dvojčata – zrádci, kteří útok naplánovali, aby byl zabit Ažihad a oni mohli zajmout Murtagha a odvést ho ke Galbatorixovi. Král Murtagha přinutil, aby mu přísahal věrnost ve starověkém jazyce. Teď jsou Murtagh a jeho nově vylíhnutý drak Trn Galbatorixovými otroky, a ačkoli ho Eragon prosí, aby Galbatorixe opustil a přidal se k Vardenům, Murtagh prohlásí, že přísaha mu nikdy nedovolí krále neuposlechnout.

Murtagh dokáže přemoci Eragona se Safirou pomocí nevysvětlitelné síly. Přesto se je rozhodne kvůli jejich předchozímu přátelství pustit. Než odletí, vezme Eragonovi Zar'roc a prohlásí ho za své dědictví, jelikož je Morzanův starší syn. Pak mu prozradí, že není jediným Morzanovým synem – Eragon a Murtagh jsou bratři, neboť oba porodila Selena, Morzanova žena. Dvojčata zjistila pravdu, když zkoumala Eragonovy vzpomínky toho dne, co přišel do Farthen Dûru.

Eragon je otřesen Murtaghovým odhalením o jejich společném původu. Nakonec se spojí s Roranem a vesničany z Carvahallu, kteří připluli na Hořící pláně právě včas, aby pomohli Vardenům v bitvě. Roran hrdinsky bojuje a povede se mu zabít Dvojčata.

Roran s Eragonem hovoří o jeho podílu na Gerově smrti a bratranci se nakonec usmíří. Eragon Roranovi slíbí, že mu pomůže zachránit Katrinu, kterou unesli ra'zakové.